Survey
While relying on self-reported data is not ideal, a larger audience can be reached with a survey or questionnaire. General demographic data can be collected, and seen how it corresponds with willingness to shop online, expectations of online shopping, and other shopping habits.
My survey revealed trends such as a preference for organic foods over gourmet foods, and a preference for higher quality items over low-priced items. Most said that the primary reason for shopping online was for the time-saving convenience, Over two-thirds of the participants had ordered groceries online in some form already, and over 60% had a preference for purchasing individual items over pre-selected meal kits or weekly packages.
COMPETITIVE ANALYSIS
While still a relatively new field, the competitive landscape of online grocery shopping has already become dominated by a few key players: Instacart, Amazon Fresh, Good Egg, Blue Apron, and Safeway Delivery, to name a few.
To help determine which features would be expected and which to include in the release of Bask, I created a competitive analysis chart, listing features most common to the existing apps divided into three categories: account features, app navigation features, and delivery features.
All features from competitors should be considered, in addition to what sets each apart, and how each are using their feature list to target their market.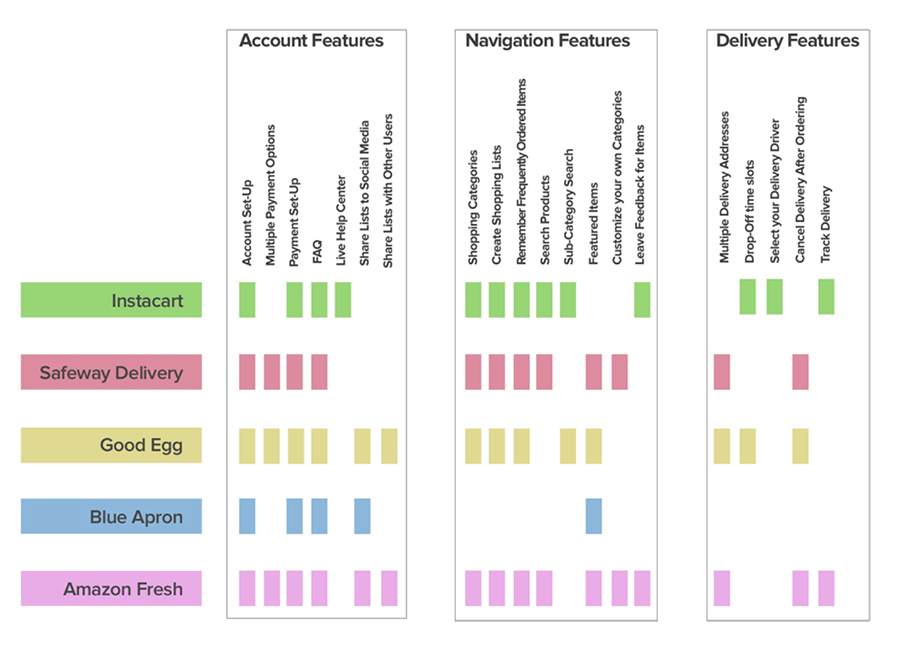 FEATURE MATRIX
A comparison of features by relative ease of implementation to their value in utility to the consumer. It can help to make decisions on which features to include, leave out, or add in an future version, released with an update after initial launch. Here, some features such as social sharing, achievement badges, custom shopping categories were determined to be of lower value and were ultimately left out of the later designs.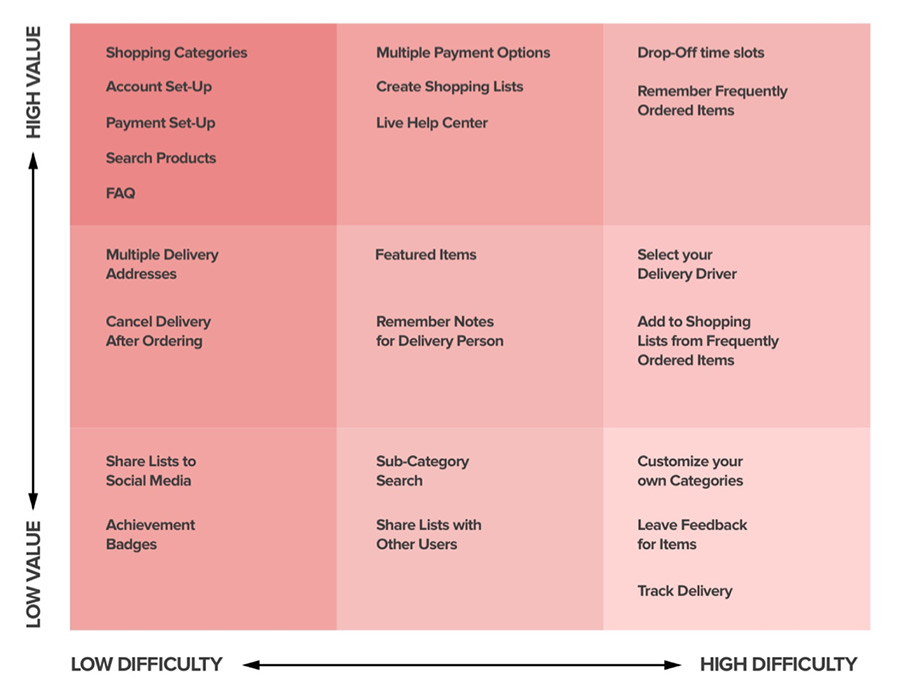 PERSONAS
Personas of real or imagined people help various teams to envision and communicate the needs of their users, and to stay focused on the most important goals, and avoid feature creep. Personas are empathy tools with wide adaptation in the UX design process.
The personas created for Bask were made from what emerged as the two strongest trends from my survey and research from other studies of online grocery shopping: two relatively busy people in urban or semi-urban areas. One a middle-aged single parent with limited time, the other a millennial with expendable income.
When creating features and interactions for Bask, these two personas were kept in mind as the people who would be using them.
EMPATHY MAP
Taking empathy tools to the next level, the empathy map is a deeper dive into the experience of the target operant of the software being developed.
It's easy for us as app builders to fall into the mindset of making a product that we would want to use, but the people we are actually building for may not have the same goals or priorities that the designers, developers, and other stakeholders have. This is especially true when a user may come from a completely different cultural setting, speak a different language, or if they perform completely different tasks with the product than the designer does.
An empathy map is an exercise that an entire team should perform together, to help everyone actively engage in the world of the people who will use their product.