Survey / Questionnaire


Several rounds of surveys were held, the first written with the intention of making a better to-do list app. This found that people generally like to start using to-do list apps with enthusiasm, but then usually stop using them after only a couple of weeks (over 50% of those I surveyed said they stopped using a personal task management app after just two weeks, nearly 80% reported that they stopped using one after a month).
Shifting away from a strictly task management concept for an app, follow-up surveys focused on what people do like to do with an apps, what kind of data they actually do find useful to log and track, and what kinds of device interactions could be habit-forming and helpful.
Trends toward less mundane task-logging, and for using more generalized wellness and mindfulness tools emerged from my results.
Interviews


From formal recorded conversations to casual chats over coffee, I made sure to meet with a diverse set of professionals and laypeople to gather ideas, feedback, and new data. Psychologists, behavioral therapists, art therapists, project managers, power users of task management apps, educators, as well as other designers and developers were all welcome contributors to the formation of my early design concepts for the app.

FEATURE MATRIX


A handful of mindfulness apps already exist for iOS and Android devices. I tried out as many as I could find, noting what features were offered, presentation of tools and interface, differentiators and similarities between related tools. Wellness apps I tested ranged from guided meditations to soothing soundscapes to portals for various wellness forums.
This chart compares features ranged by relative ease or difficulty of implementation compared to value in utility to the operant. A graphical breakdown of features can help determine which will go into an initial build, which could be held off for a future release, and which could be scrapped altogether. For example, I decided to leave out geolocation mapping and notifications from the first iteration due to its higher difficulty to implement and relatively lower value to the operant, though I did include the more difficult to implement multi-directional mood tracking, due to its higher use value.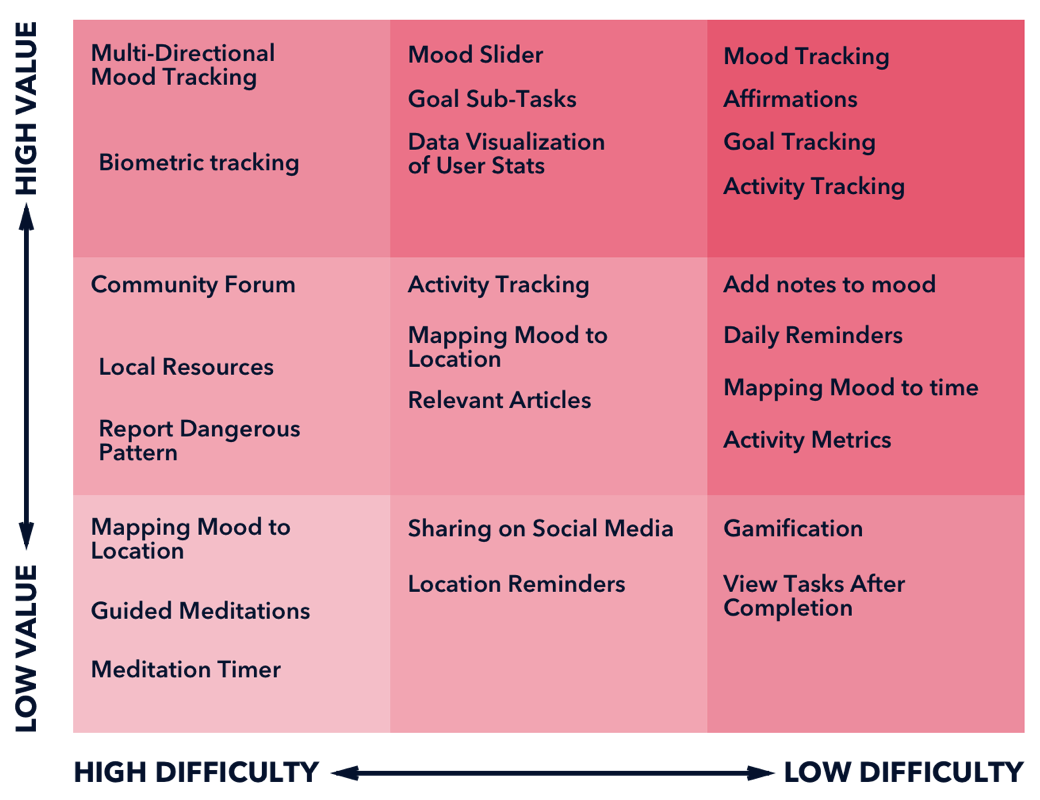 LITERATURE REVIEW


A designer often needs to become an expert (or at least very well-informed) on a subject in a very short period of time. Tools we build may be operated by people with far more experience than we have; these tools had better serve those using them well, or risk being abandoned.
Without the many years of specialized training in behavioral psychiatry, the credentials of a therapist, or the emotional literacy of a psychologist, I turned to those who did — and who have written on the topics. The Dalai Lama and The Paul Ekman group teamed up to create a digital tool called The Atlas of Emotions. I used this to gain insight on affect theory, along with others; especially those of Robert Plutchik, who envisioned the range of basic human emotions as an eight-fold wheel.
An "Ah-Ha!" moment occurred for me upon discovering Robert Plutchi's Wheel of Emotions. Nearly all the mindfulness apps I tested that featured affect logging (emotion tracking), none had more than a simple slider between "good" and "bad," or some other binary scale between positive and negative. Emotions have so much more depth, and here was a wonderful graphic visualization of the range of emotions humans feel, and a chart for how they relate to each other. This would be incorporated into the Journey interface design, and become the backbone of the Mood Journal feature of the app.
Other sources include Harvard, the National Institute of Mental Health (NIMH), Psychology Today. Surprisingly, the most useful research on self-affirmations came from a collaboration of the Stanford School of Business with the Department of Brain Sciences at UC Santa Barbara.